The common condition you've never heard of: 147 million people worldwide are affected by alopecia areata.(1)
NEWS PROVIDED BY
Valerie Fuentes
September 8, 2020, 09:00 ET
MIAMI, September 8, 2020 — Today the launch of Overcoming Medical Hair Loss, a free online event geared towards women struggling with medical hair loss, was announced. During this unprecedented time of isolation, sufferers of hair loss, whether caused by alopecia areata, trichotillomania, drug side effects, medical illness or other conditions, need to know they're not alone. Medical hair loss doesn't have to be a taboo topic, and to kick off Alopecia Areata Month, Valerie Fuentes created an online forum to openly address these issues. 
The Overcoming Medical Hair Loss dedicated interview series will highlight issues a diverse mix of women with medical hair loss are working through, in hopes to normalize and destigmatize them. During the one-month celebration to increase public awareness of alopecia areata, Valerie is on a mission to reach thousands of women globally with the important message: you are not alone.
In collaboration with 20 top coaches, doctors, researchers, and other experts in the field, Valerie created this event to provide women with credible, relevant and helpful information. Experts include Natasha Mesinkovska, MD, a specialist in dermatology and dermatopathology and chief scientific officer of the National Alopecia Areata Foundation (NAAF), Nancy Levin, a best-selling author and master life coach, and Nisha Chellam, MD, a traditionally-trained physician turned functional medicine doctor. Open conversations with women who have first-hand experience with medical hair loss including real-life stories, advice, and insights will also be featured.
"I'm eager to provide women tuning into this event with tangible medical guidance that can support their journeys," remarks Dr. Chellam. "It is an honor to be featured as a speaker during Alopecia Areata Awareness Month to serve patients with medical hair loss while also celebrating their triumphs." 
"I have the utmost gratitude for Valerie and this cause," added Dr. Mesinkovska. "The patients I serve, my colleagues and I are so thankful for thisevent, and the related work being done out of care and devotion."
The event airs today and continues throughout September with topics including:
September 8, 2020 –

The intricacies of wearing wigs, including racial considerations

September 12, 2020 –

What it means to have alopecia during the COVID pandemic, and the latest research in hair loss

September 15, 2020 –

A behind-the-scenes look into the human hair industry

September 19, 2020 –

How to reverse autoimmune conditions from a functional medicine perspective

September 25, 2020 –

Maintaining mental health through the hair loss journey

September 29, 2020 –

The importance of mindset and self-worth in coping and healing
"Using my personal experiences to fuel my passion, I'm on a mission to help women increase their confidence, practice radical acceptance and live powerfully with their condition – not despite it," says Valerie Fuentes, patient advocate, event host, and women's hair loss coach. "As a sufferer of alopecia areata, I intimately understand what women with hair loss are going through during this time. While medical hair loss is not strictly experienced by women, I created this free online event to address the unique needs of this particular population."
For more information and to register for the virtual event, please visit https://www.overcomingmedicalhairloss.com/.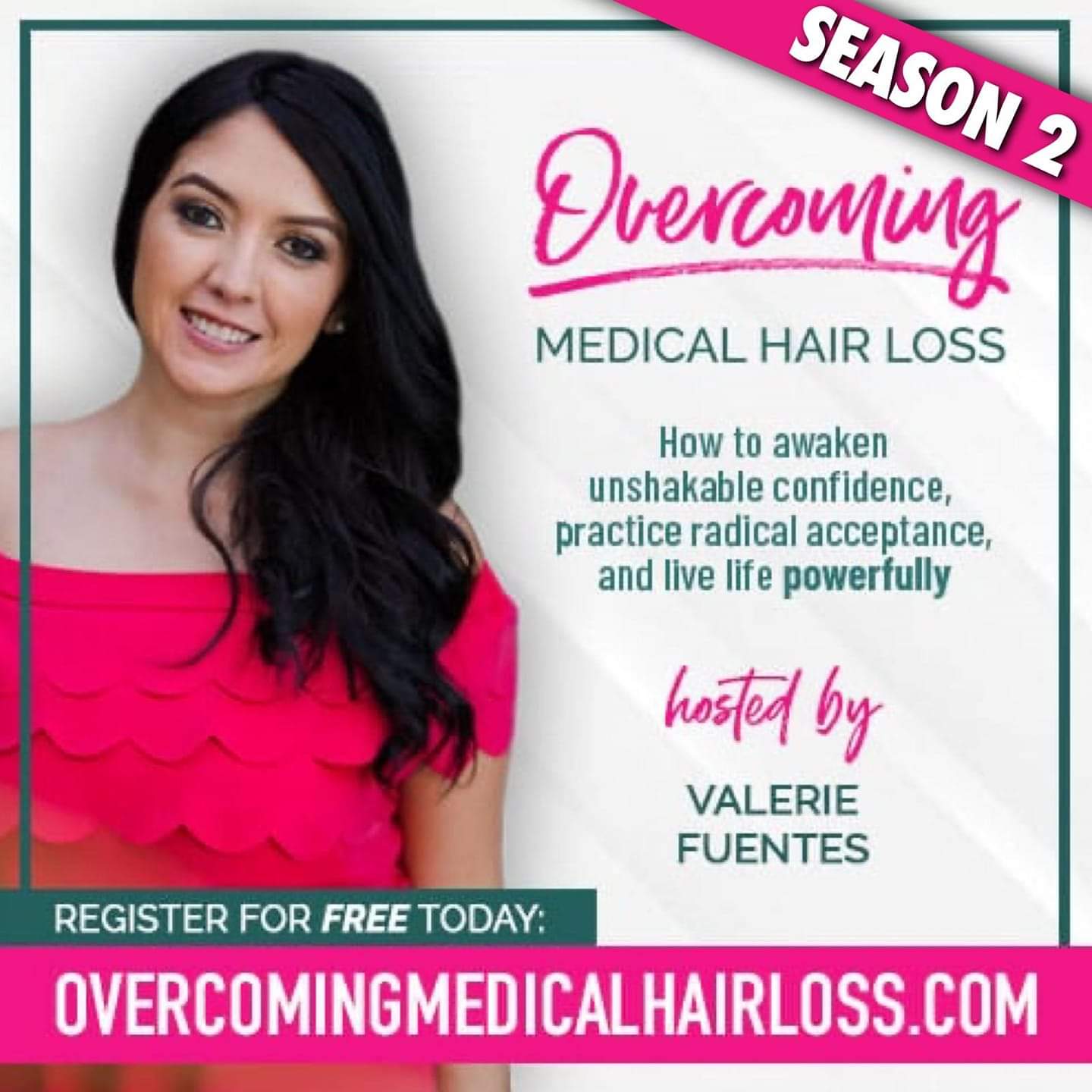 (1) National Alopecia Areata Foundation. (2020). About Alopecia Areata. https://www.naaf.org/alopecia-areata 
About Alopecia Areata
Alopecia areata is a common autoimmune skin disease, causing hair loss on the scalp, face, and sometimes on other areas of the body. Alopecia areata affects as many as 6.8 million people in the U.S. with a lifetime risk of 2.1%. People of all ages, both sexes, and all ethnic groups can develop alopecia areata. The condition often first appears during childhood and can be different for everyone who has it. To learn more, please visit https://www.naaf.org/alopecia-areata.
About Valerie Fuentes
Valerie Fuentes is a bilingual women's hair loss coach, patient advocate, and speaker. Valerie began losing her hair at age 18 and was diagnosed with alopecia areata at 24 after extreme hair loss. Valerie's lowest moments ignited her passion to serve other women suffering from medical hair loss and fueled the launch of her coaching practice in Miami, FL. As a strong disease awareness advocate and former legislative liaison for NAAF, she's breaking stigmas around hair loss and empowering others to live in radical self-love. To learn more, please visit https://www.valeriefuentes.com/.